To get the obvious out of the way, I apologize for video and audio quality. I actually had no idea this was being recorded and, judging by the quality, this seemed to be a spur of the moment production. Nevertheless, this cell phone video captured the first public performance of Leo Delibes' "Flower Duet" that I had arranged for guitar duo over the summer.
To give a bit of context to this performance, it took place at a Leadership Donor banquet during Frostburg State University's 2017 Homecoming week. I was largely ignorant of the gig before stepping foot in the theater, all I knew was that myself and my duo partner, Paul Zimmerman (left), were asked to play for a bit at this event. It wasn't until we were just about to go on that I was informed of the illustrious audience. The crowd was a composition of deans, provosts, vice presidents, the president, and a wallet full of top donors to the university; I knew I should've brought my tip jar. We were also closing what was close to a three hour long event, and restless murmurs fell across the room as we were announced. Then I had to tell the audience that we would be performing an opera piece on two guitars, a quirky sentence to hear even to the casual music listener. To further this peculiar program, I informed the crowd that we would later be joined by the FSU Guitar Ensemble to play the Game of Thrones theme. This drew laughter from the tired crowd and who knows if it was out of nervousness or delight.
We played decently well considering the circumstances, and if we did our jobs rights, the audience felts images of two girls throwing flowers into a river, followed by depictions of the Daenerys Targaryen riding a dragon.
Sounds like an interesting cross-over premise to me.
Hope I did ya proud, Leo
As always, you can grab the sheet music for my arrangement of Flower Duet here: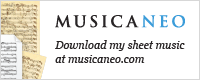 If you want it to grace your ears in higher quality, download the piece at Bandcamp